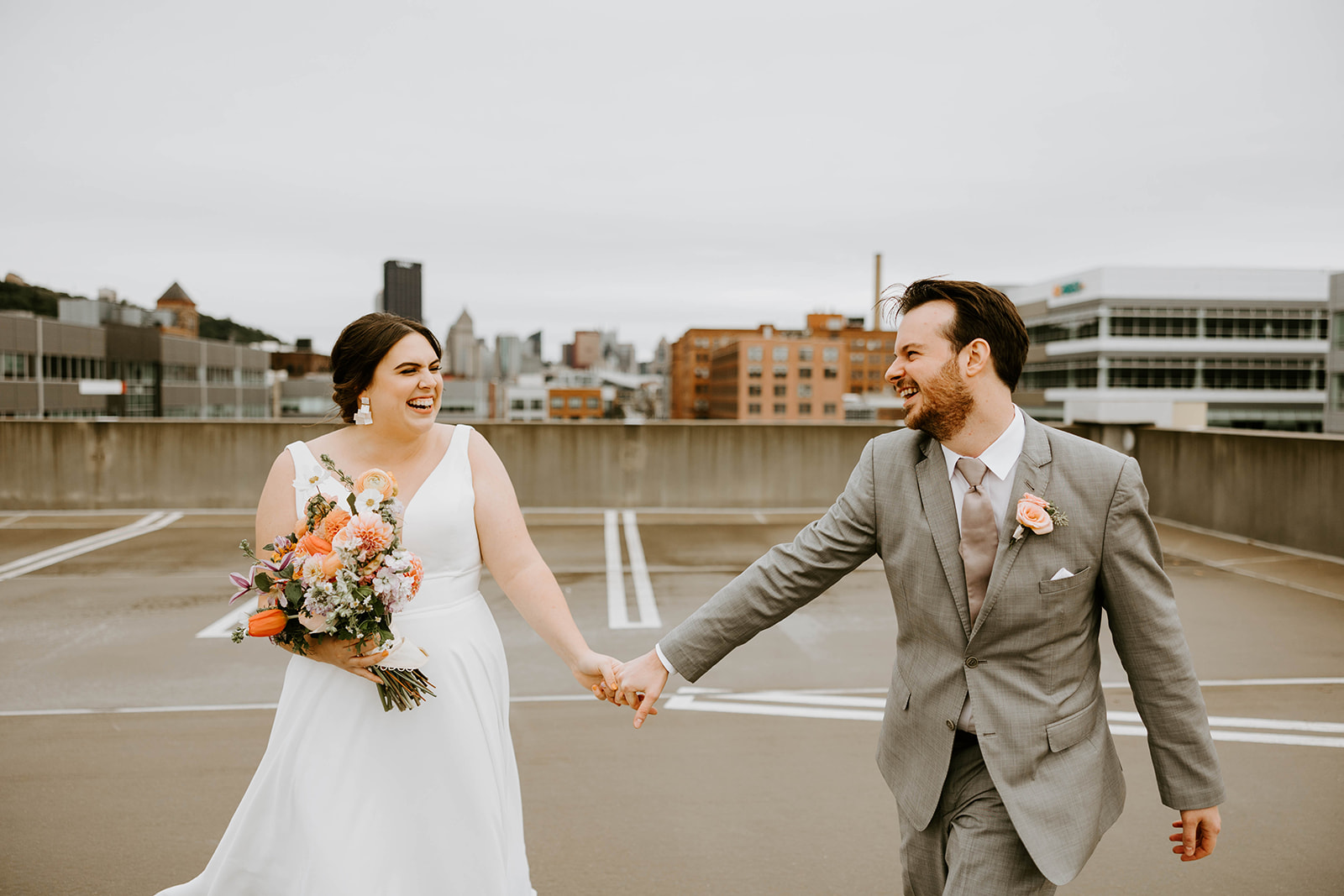 Alex and Greg found me online, and we hit it off instantly! It felt like a good fit when we had a call to discuss everything before booking. Sometimes that just happens, and I love it when I can make my couples' lives a little easier by being exactly what they're looking for. Alex and Greg were such a fun, happening, and positive couple, and it was a pleasure shooting their Pittsburgh wedding photos at such a unique location.
The Cinderlands Warehouse
Alex and Greg wanted to marry modern and retro, so they chose Cinderlands Warehouse for their wedding in Pittsburgh. The venue gives you a peek into Pittsburgh's industrial past while blending with the city's colorful present. The decor had bright pops of colors and disco balls, which brought this fun retro feel to the space and made for a cool juxtaposition between the two vibes. It also made for a great backdrop for Alex and Greg's Pittsburgh wedding photos.
Fun And Chill Pittsburgh Wedding Photos
It always takes hard work to coordinate the couple's first look because I have to make sure they don't see each other before they're meant to. But I'm happy to do it, we made it work, and I'm thrilled with how that part of their Pittsburgh wedding photos turned out. You can really see just how blown away Greg was when he saw Alex.
In general, Alex and Greg were a great couple to work with for their Pittsburgh wedding photos. They were always having so much fun wherever they went or whatever they were doing. It didn't matter if we were shooting their photos on the streets, on the top of a parking garage, or inside the venue because it was never long before they were smiling and laughing again.
Speaking of the top of the parking garage, we also took some great bridesmaids and groomsmen photos there. The cloudy sky actually matched the gray of the parking garage and groomsmen's suits, and their boutonnieres meshed well with the red-brick buildings in the background.
But my favorite part of Alex and Greg's Pittsburgh wedding photos was capturing all the crazy fun they had on the dance floor! Alex and Greg love to dance, and it was so much fun to see them getting down with all their friends and family. Everyone was busting out their moves, cheering, and just being themselves. It was hard not to get caught up in it myself!
Photos You Love
I loved taking Alex and Greg's Pittsburgh wedding photos, but it's not just Pittsburgh wedding photos I love taking. I love taking wedding photos no matter where they are because I know it's going to bring a couple's dream to life.
So, if you're ready for a wedding photographer who's passionate, knows how to make you feel comfortable in front of the camera, and has the experience to back it all up, then get in touch. I'm ready to help you with whatever you need!
Vendors
Photography: Lindsey Zern Photography
Florist: The Farmer's Daughter Flowers
Getting Ready Location: The Industrial Hotel, Pittsburgh PA
Wedding Venue: Cinderlands Warehouse
Wedding Coordinator: Day of Pgh
MUA: Bloom Beauty Parlor