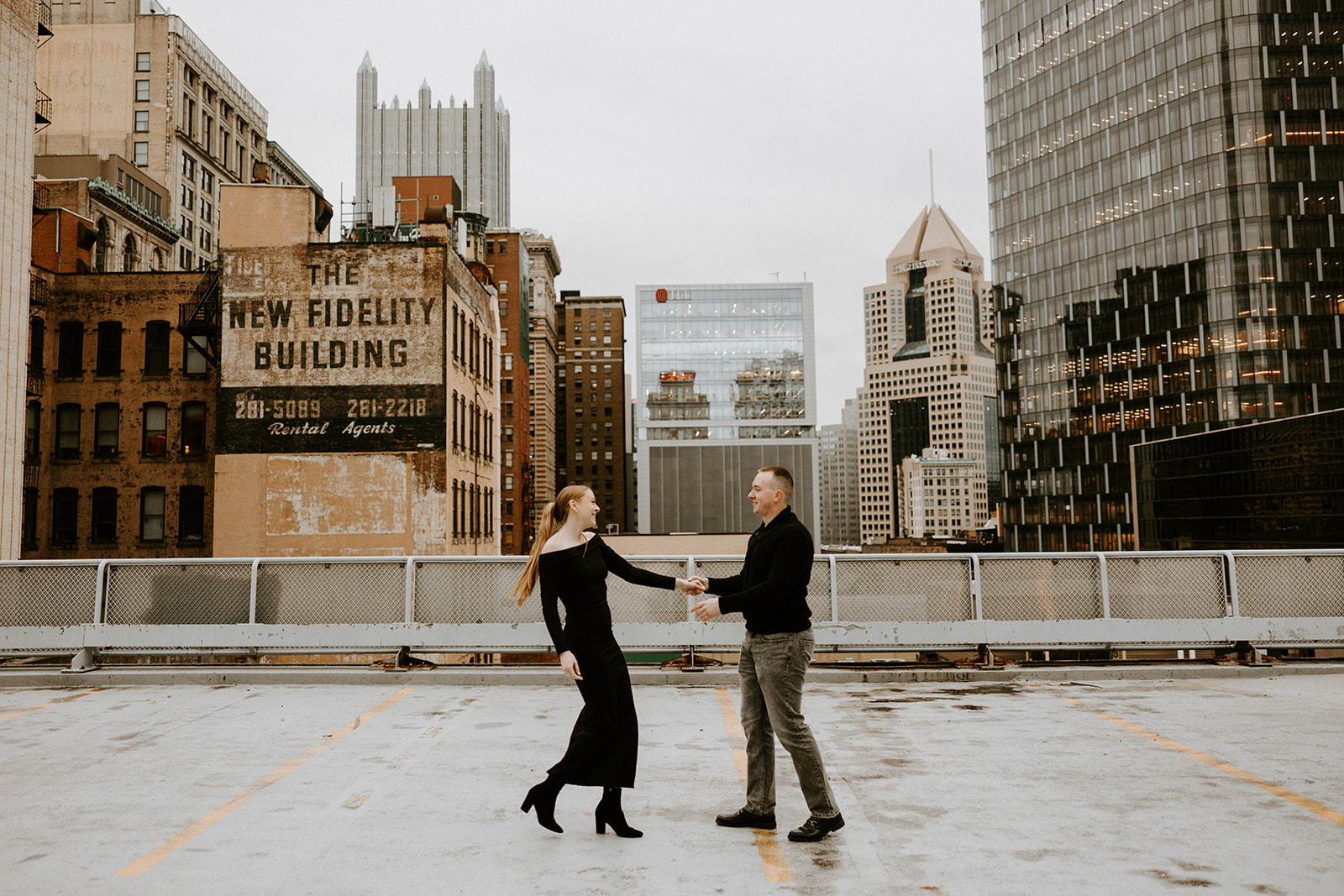 The word "urban" means a lot of things to a lot of people. For Nicole and Adam, we were aiming for urban engagement photos that had the feel of the city but weren't super grungy either. It was a careful balance, but together, we accomplished that by shooting in three specific areas in Pittsburgh, carefully chosen to be the kinds of backdrops we were looking for.
Here's how that went!
Classy, Urban Engagement Photos
In some ways, Nicole and Adam's urban engagement photos felt like a movie. I even played the part of a location scout! It's just part of what I enjoy doing for the couples I work with. I want you to know I'm there for you every step of the way because this is just as important to me as it is to you.
So, I went looking for good spots in Pittsburgh, and I found three locations close to one another for us to use for their urban engagement photos.
For those urban engagement photos, we started in Pittsburgh's Mexican War Streets, which is a subset of Pittsburgh's North Side. This gave us a nice classy, urban feel with the row houses looking almost like NY brownstones. The colorful bricks popped against the overcast sky and mixed well with the colors of fall. We could've spent the entire photoshoot just in that one location, but we had more of Pittsburgh to see, so we had to move on.
Next, we moved to a more gritty part of Pittsburgh's North Side, where we got some awesome urban shots with more texture and graffiti. There's just something so real about shots like those, and it feels like you're capturing the feel of the city as much as you are the feel of the couple. In a way, the history of the city merges with the history of the couple, creating this cool vibe of a frozen moment in time for both parties.
Lastly, we finished in downtown Pittsburgh on top of a parking garage, which gave us an incredible view of Pittsburgh's skyline. One of my favorite shots from this part of their urban engagement photos was when Adam popped a bottle of champagne. What better way to celebrate the end of their romantic journey through Pittsburgh?
Final Thoughts
I'm a big fan of all types of photos, whether they're urban engagement photos or some other kind. I've shot at a theatre, an old blast furnace, and more, for example. I just want you to know I'm here for whatever it is you're looking to do.
I'm always happy to do more traditional shoots too, such as this one in the forest, but I'm happy with whatever makes you happy. My only goal is to capture your pictures in a way that reminds you of those magical moments you spent together. And I'm willing to do whatever it takes to make sure you get those kinds of pictures. I want you to FEEL those moments even years later.
As long as I've done that, I consider myself successful. So, whatever you need, let me know!