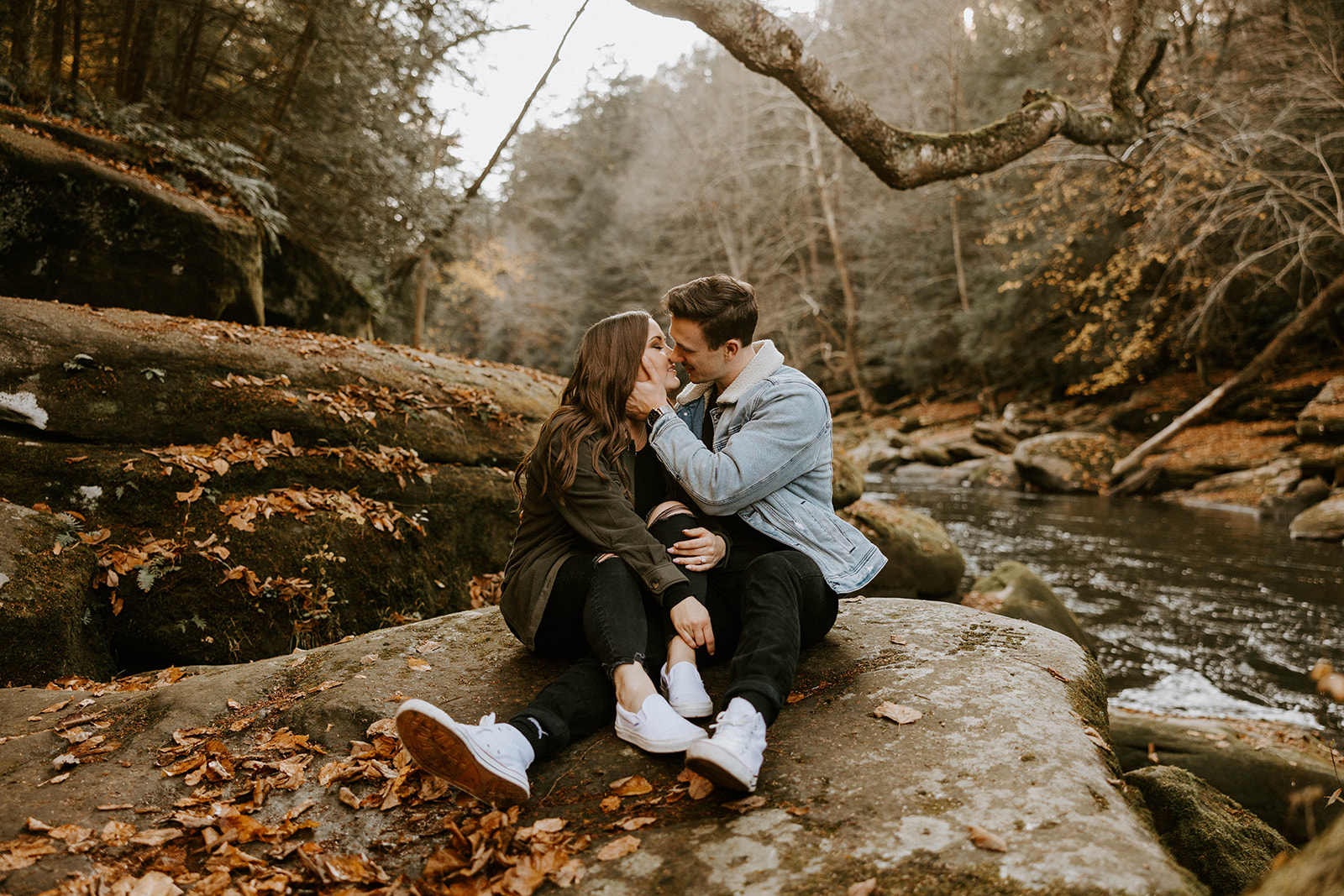 This is a cool wedding story I just have to share. Greta and Peter met at their church, their friend set them up, and the rest is history. Oh yeah, and their friend married them too! So, you better believe I was happy to take this couple with an awesome story's forest engagement photos!
They were looking to have a greenhouse wedding, so we wanted to do something woodsy and romantic to complement it. Also, since they were getting married in the winter, the fall leaves and foliage were nice to have while they stuck around!
Our Process
Greta and Peter found out about me through a mutual friend whose wedding I did in the past. It's always a pleasure when my thoughtful past clients help me meet new amazing people to shoot. Working with Greta and Peter was just as amazing as the couple who recommended me to them too.
Together, we developed how to best pull off their outdoor engagement shoot. In the end, we were able to find a great forest area that gave us options for shooting by a river, on the rocks, in a field, on the path, and off the path too.
These are the kinds of sessions I love, where I get to work with people like Greta and Peter to explore what we can come up with. There's a little adventure involved, a little risk, and a whole lot of payoff.
Now, let's talk about Greta and Peter's forest engagement photos.
Their Forest Engagement Photos
I'm real happy with these forest engagement photos if you couldn't tell by now. As with anything good though, they did take some work, which I'm happy to do for any couple. I know just how special these moments are, so I'm always willing to do whatever's needed to deliver the best.
For this shoot, that meant finding the right backdrops, poses, angles, lighting, and more. Pretty typical for any photoshoot, but it can be tricky in the natural elements. I'll start with what ended up being my favorite shots though: the golden light in the field. It really is hard to beat a great couple in a field bathed in golden light. We had to make sure it showed up just right in the photos.
I also loved putting the colors of the forest to use too. Since it was fall, the rocks, trees, and their remaining leaves built this faded, almost washed-out kind of backdrop, while the fallen leaves brought in bursts of contrasting orange. It was great finding ways to position Greta and Peter in the middle of all that too, so they felt like a part of everything going on around them rather than something that shouldn't be there.
I can't say enough about how happy I am with the way their forest engagement photos turned out.
Photos To Tell Your Story
If you're feeling a little inspired by Greta and Peter's forest engagement photos, I'd love to take yours too. It doesn't have to be forest engagement photos or anywhere typical either. After all, I've shot at a camp, theatre, and aviary. So, whatever kind of session or photos you're looking for, just let me know!