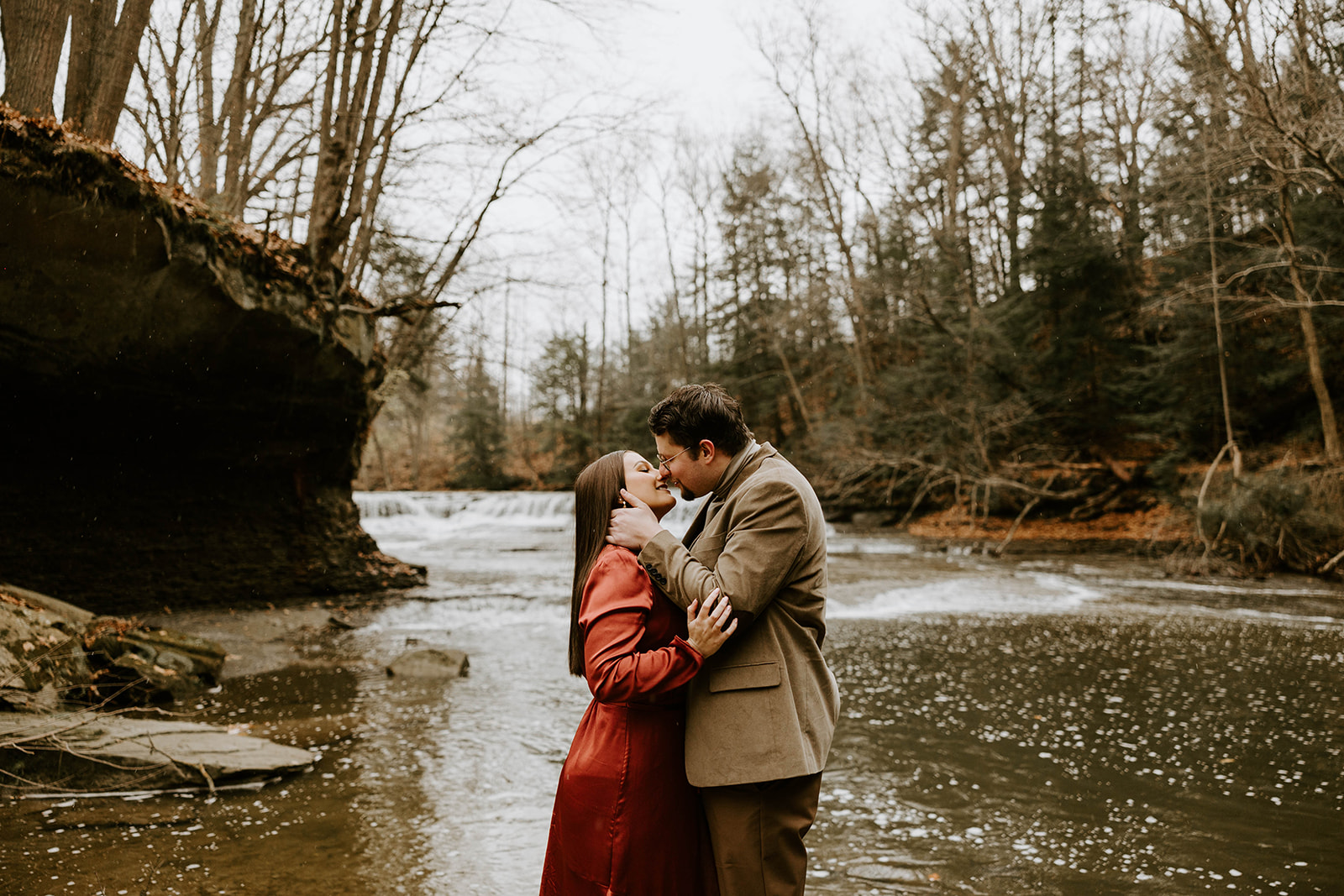 Outdoor photoshoots are always interesting. You've got to plan for the weather, find a style that matches the area, and pick the time of year that'll give you the vibe you're going for. In other words, there's a lot to consider. But outdoor photoshoots are absolutely worth the effort. They're exciting, unique, organic, and they combine the beauty of a couple in love with the beauty of the world around them for some great pictures. This was the case for Kate and Ryan's park engagement photos too.
All The Little Details
Cleveland Metroparks was an amazing place to shoot Kate and Ryan's park engagement photos! There's a lot to do there, but for their engagement session, we stuck to the park area. It was cold, but it was worth it to include the incredible colors of fallen autumn leaves in the shoot.
Getting to our location wasn't easy though. We had to walk down a steep hill to get there, but it was dang worth it! The flowing river, the high rocks above it, the fallen trees, and all the pops of autumn color combined into a picturesque set of park engagement photos for Kate and Ryan.
From the start, this was what they knew they wanted. They were looking for something outdoorsy to match their personalities, which were adventurous and beautiful. Their attire was the same, which was both bold and well thought out. Kate's rusty red dress really popped amongst the greens and browns of the area, and Ryan gave off major classy professor vibes with his getup.
I loved all of it, and I'm glad they did too.
Taking Their Park Engagement Photos
One of the appeals of an engagement session is that you have more time and space to play with. You're not as constrained by a timeline or other vendors needing the couple for something. So, Kate, Ryan, and I took full advantage of this for their park engagement photos.
We did stick to a couple of key areas that stood out among the rest, but we found as many angles as we could within those areas. One of my favorites was when I laid down on the ground to get a cool photo of them holding hands from below. It's fun getting creative and trying new things, and it's amazing couples like Kate and Ryan who inspire me to take such risks. They were full of so much positive energy and love that it was hard not to get caught up in it!
Also, being that it was an engagement session, I found ways to make Kate's engagement ring stand out. Sometimes, this meant shooting close-ups. Other times, this meant finding ways to pose Ryan and her so it was visible and noticeable. I took some shots of it set in different areas of the forest too. It felt magical set and sparkling against all the stone, wood, and plant life of the park.
Final Thoughts On Kate And Ryan's Park Engagement Photos
I can't say enough good things about Kate and Ryan's park engagement photos! I love these types of sessions where we get to head somewhere beautiful, take some amazing pictures, and capture the wonderful couple's love for one another.
If you'd like some awesome engagement photos of your own, let me know. I'd love to hear what your ideas are, so I can help bring them to life. I'm looking forward to it!