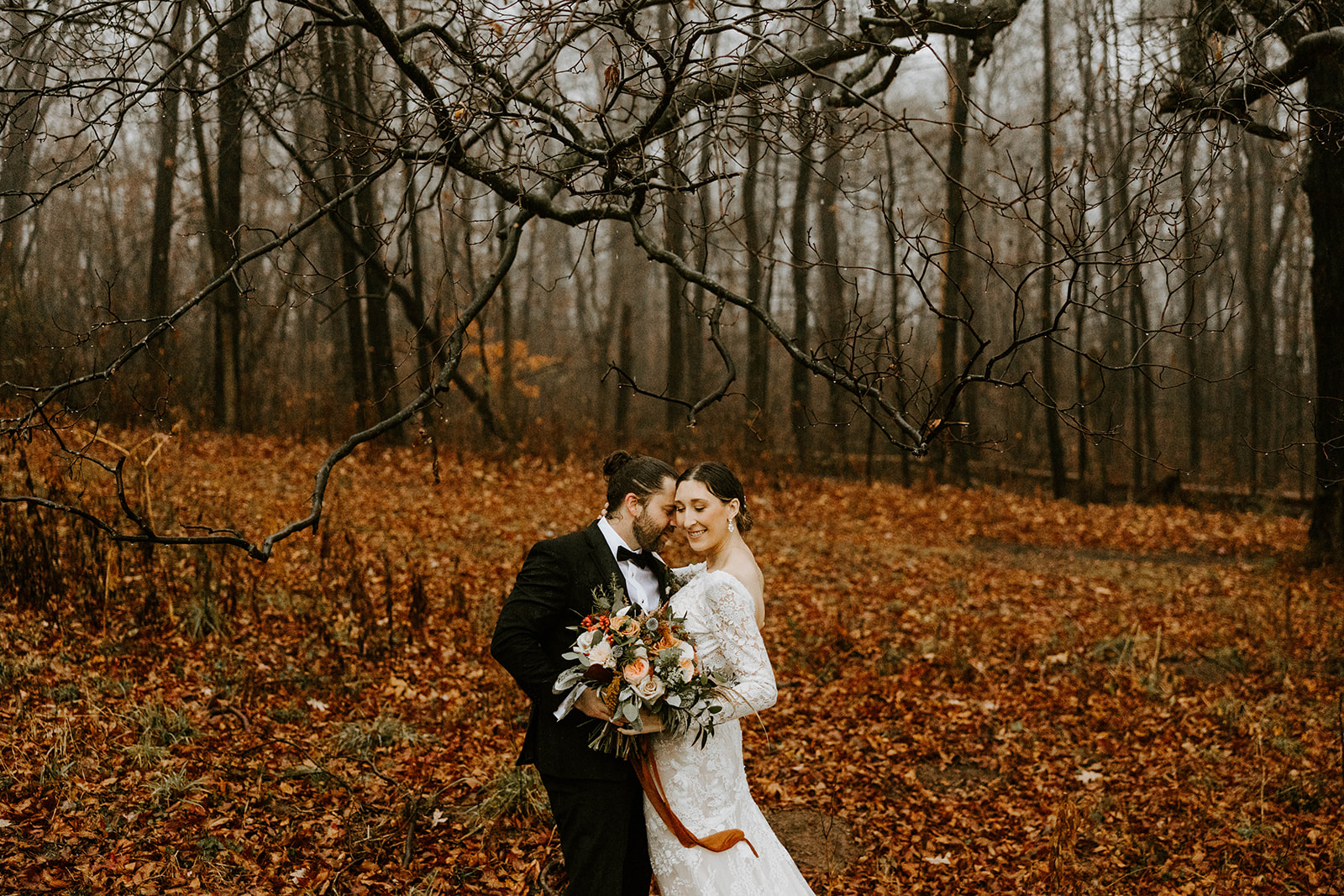 It's always such an honor and a delight getting to be a friend's wedding photographer but getting to be a friend and fellow wedding photographer's photographer was a double honor and delight! And that's just the start of what I have to say about shooting these Brush Creek Park wedding photos for my friend, Emily, and her husband, Luke. 
Let's get to it!
Working Together
Emily and I have been friends since college, and we both have wedding photography businesses now. In our early days of owning our businesses, we would step in as the assistant photographer for each other. It was so fun to go through so many weddings together, planning and shooting.
When it came to her wedding, we did the same thing. To make sure she would have the best Brush Creek Park wedding photos, about a week before her wedding day, she and I went location scouting for a fun place to take photos of Luke and her after the ceremony. We found this beautiful spot on the edge of the woods with a large field about five minutes away from the venue. It might've been rainy, but that just added a fun moodiness to a beautiful spot, and nothing could dampen Emily and Luke's smiles that day.
A Hurricane Wedding
For their day, Emily and Luke planned everything down to the last detail. They had a fun color palette for their wedding with sage green, pops of copper, and terracotta, which was a color scheme I'd never seen in a fall wedding before, but I loved it. They incorporated romantic taper candles, stoneware vases, and organic flowing florals into the decor as well. Having Emily as a friend and fellow wedding photographer gave me a deeper look at all the design details like this, which helped me make her Brush Creek Park wedding photos even better.
There was just one problem: Emily and Luke were getting married while Hurricane Ian was hitting our region hard, and it didn't stop raining ALL DAY.
But one of the great parts of working with another experienced wedding photographer is how much they understand the value of shooting outdoor photos in natural light, even if it means getting a little wet. So, for their Brush Creek Park wedding photos, Emily and Luke just went for it. They embraced the rain and let go of their inhibitions. Because of that, they had a blast dancing in the rain together, and it was a blast taking pictures of them doing it too!
It just goes to show you can still get amazing photos, even in the worst weather. Both Emily and I understand it's hard to trust in decisions like this one though. That's why we're both willing to talk you through why we would want to shoot a certain way. We're here to make you comfortable and give you our absolute best, even if that means shooting in the rain.
Interested In Your Own Brush Creek Park Wedding Photos?
If you couldn't tell by now, I loved shooting Emily and Luke's Brush Creek Park wedding photos for lots of reasons. They were full of joy, the wedding was beautiful, and the venue was incredible.
If you're thinking so too, I'd love to shoot your Brush Creek Park wedding photos as well. Or maybe you're interested in another venue. That works for me too. I'm there for you wherever you're thinking of going. Just send me the details, and we can get started!
Vendors
Photography: Lindsey Zern Photography
Florist: Julie James
Videography: Wiley Weddings
Makeup: Allison Reno Makeup
DJ: Fireside Events