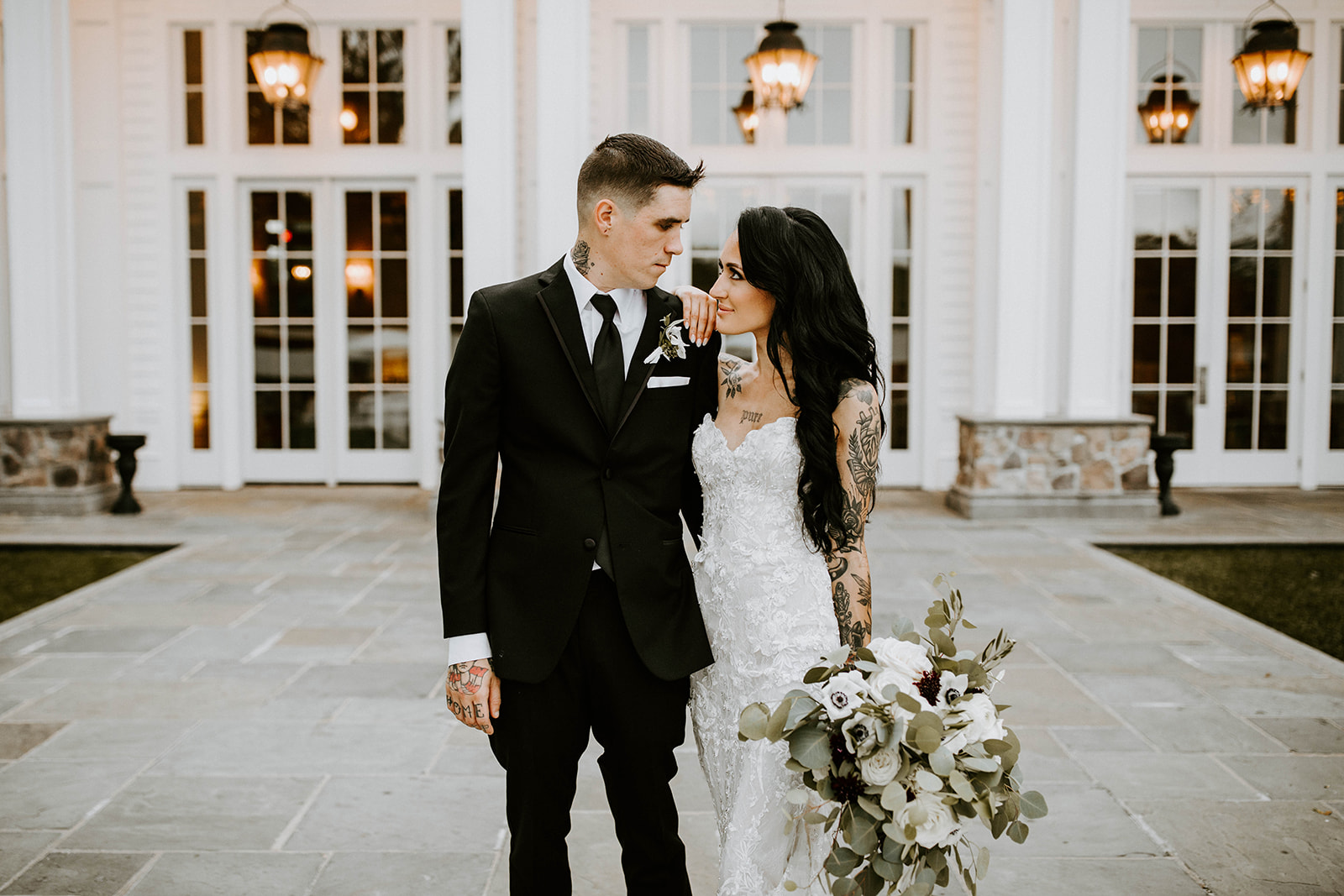 Are you a fan of little insider jokes and surprises? Me too. That's why I was so stoked when Julia and Ruben asked me to photograph their wedding at The Ryland Inn.
I absolutely love shooting weddings with couples who have a lot of character. And trust me when I say Julia and Ruben have character in spades! They opted for a classic black-and-white color scheme as a way to feature their stunning tattoos and pops of color throughout the wedding.
But this was far from the only quirk of the day. From funny groomsmen pictures to funny moments with the bride and groom, this wedding at The Ryland Inn felt like being part of the cool kids club.
Julia And Ruben: The Perfect Match
When I say Julia and Ruben were meant for each other, I mean they were MEANT for each other. They love all things rockabilly, tattoos, and not taking life too seriously. They had so much fun getting ready with their bridesmaids and groomsmen, taking some silly photos with them before their first look.
Julia wore a showstopping lace wedding dress with an incredible train. And Ruben wore a black and white suit, sporting a unique boutonniere that matched Julia's bouquet. Together, they looked like the perfect match, complementing each other in every way.
Photographing Julia and Ruben was a dream, especially since they couldn't keep their hands off each other! We even had an opportunity to really feature their respective tattoos before the wedding. But soon, it was time to head outside for the ceremony.
A Sweet Wedding At The Ryland Inn
Julia and Ruben walked down an aisle covered in red rose petals. They said their vows in front of friends and family, and there were tears and laughter throughout the entire ceremony. We ran off to take some more wedding pictures of the happy couple and then gathered up the rest of the wedding party for photos with loved ones.
Before long, the reception was underway! And it was a party from start to finish. Julia and Ruben wanted their wedding at The Ryland Inn to be fun, and they delivered.
This wedding was full of joyful surprises, from a photo booth to a twist dance-off competition to a sendoff with sparklers. I had so much fun capturing special moments throughout the day, and by the end, I felt like one of the family.
Final Thoughts
Julia and Ruben's wedding at The Ryland Inn was an absolute joy. It was full of class, character, and above all, love. There were so many points throughout the day where I found myself grinning from ear to ear.
It was something truly special, and I was so glad to be a part of it. They reminded me that the best thing we can be is our true authentic selves. After all, why would you want to be anything less? 
If you have a wedding coming up, I'd love to hear more about it!