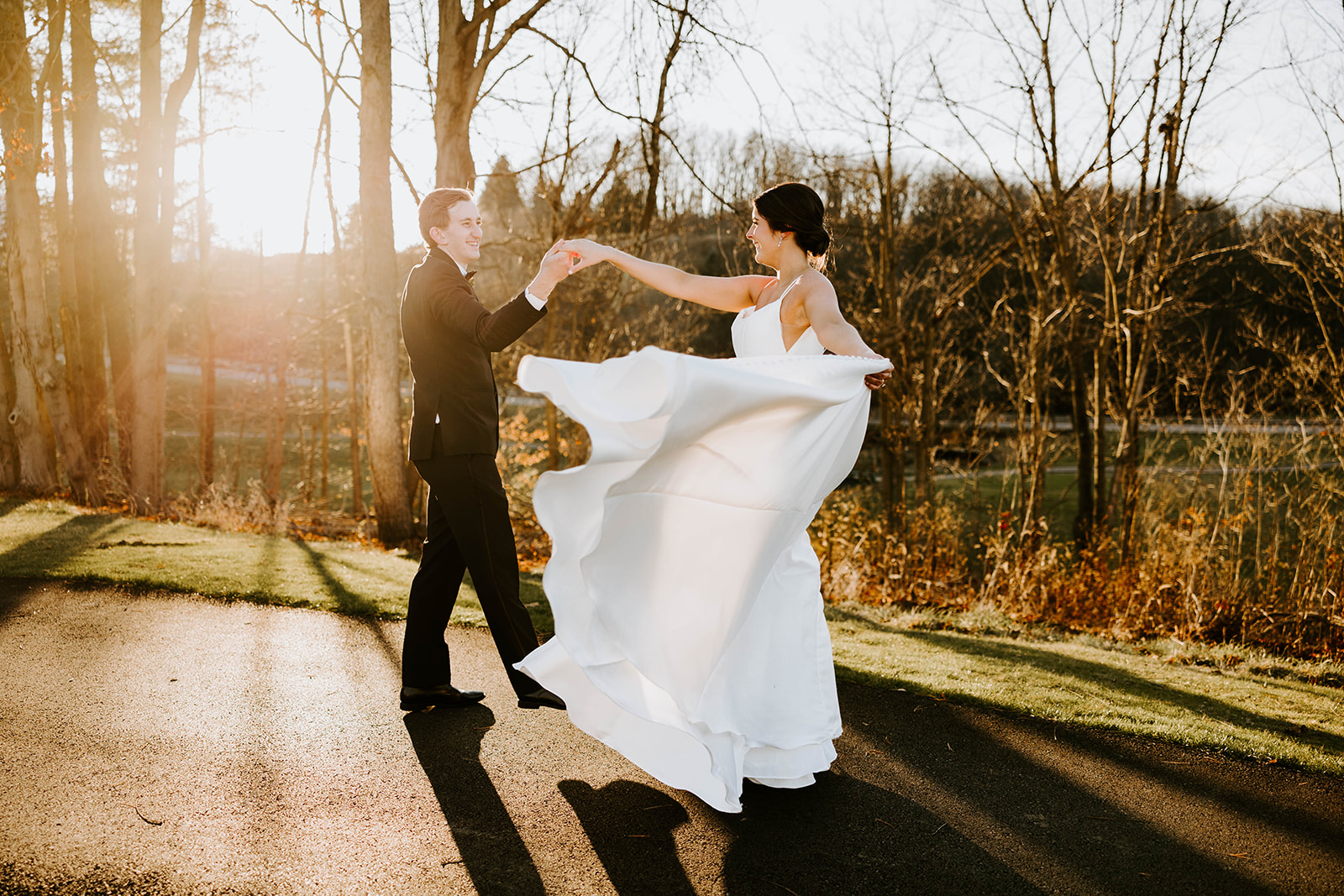 Classic-style weddings are classic for a reason! They have all the elements that make weddings special: elegance, romance, and the deep love and care that come with both. Bridget and Eric leaned into this classic style for their Southpointe Golf Club wedding day. I felt so privileged to shoot it for them, which began with their getting-ready photos.
Getting Ready
Getting-ready shots provide a unique look at the ways couples prepare for their wedding. Some couples are laid back and have fun, some are contemplative, and some just enjoy spending time with friends and family. Some couples, like Bridget and Eric, combine the best parts of all three!
While getting ready with her family and friends, Bridget was thoughtful and reflective, but she found plenty of time to smile and laugh with those around her, like when she was laughing while getting makeup applied.
Eric was the same, spending time contemplating his upcoming ceremony while finding time to enjoy some drinks with his groomsmen. They were just as dedicated as he was though, helping make sure he looked his best.
Their Wedding At St. Bernard Church
While the Southpointe Golf Club wedding venue can host ceremonies as well as receptions, Bridget and Eric elected to hold their wedding at St. Bernard Church. The church, with its high vaulted ceilings, ornate stonework, and religious iconography, was beautiful!
All of it made their wedding feel even more special than it already did. One of my favorite shots from this part of their day was the shot of them holding hands in front of the church's altar. The backdrop behind them was bright, colorful, and warm, and it framed their special moments together perfectly.
Bridget And Eric's Southpointe Golf Club Wedding Day
Couple's shots are an important part of a wedding day. We decided to do Bridget and Eric's outdoors at the Southpointe Golf Club wedding venue. With some planning, we developed a timeline that would make this work.
Since their Southpointe Golf Club wedding day was in November, that meant it was going to be freezing. We were all willing to deal with the winter elements for some incredible pictures though. Bridget and Eric were amazing the whole time, their love for each other coming through in spite of and because of the cold. We even got some cute snuggling shots! Those shots and the shots of them dancing with the winter sun behind them are some of my favorites from that part of their wedding photos.
The reception had plenty of fun moments too. It had dancing, celebrating, and everything else a good reception should have. The Southpointe Golf Club wedding venue made it easy for everyone to cut loose and just enjoy themselves while celebrating Bridget and Eric's wedding. Overall, it was a blast.
Final Thoughts
Bridget and Eric's Southpointe Golf Club wedding day was enjoyable from start to finish. All credit for that goes to them. Their positive energy throughout the day was infectious, and it showed through in their photos.
I loved being able to take those photos for them, and I'd love to do the same for you too. If you're interested, I'm ready to hear what your plans are, and I'm ready to help you make them and your photos amazing!
Vendors
Photography: Lindsey Zern Photography
Planner: Tiffany and Design